We help individuals to transform their present and build the future they want.
Woodfall Therapy Clinic is a personal improvement practice led by professional therapist Stephen Kamsika. We are based in Rotherham, near Sheffield.
About Stephen Kamsika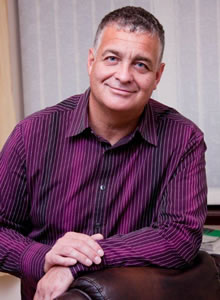 Stephen Kamsika, MWFH, MBATh, MSHA has dedicated his professional life to helping people from every walk of life to overcome personal and performance issues and achieve goals they never thought possible.
His career began at HM Prison Service, where he spent 7 years delivering cognitive behavioural change programmes in custodial and community settings. Stephen was at the forefront of training personnel in the Juvenile Awareness Staff Programme.
These experiences led Stephen to train in hypnotherapy, accelerated learning techniques, and neuro-linguistic programming (NLP). Completing his training with the World Federation of Hypnotherapists, Stephen began practicing in 2009 and has continued to study and train in new skills and therapies.
Stephen also specialises in performance improvement therapies for professional sportspeople and coaches, and is an FA-certified football coach and a qualified gym and fitness instructor.
Stephen's qualifications include:
Professional Practitioner in Hypnotherapy Diploma – World Federation of Hypnotherapists incorporating the British Association of Therapeutic Hypnotists
Sports Performance Coaching Diploma – Warwickshire School of Hypnotherapy
Certificate in Working with IBS – Academy of Clinical and Medical Hypnosis
Integrated NLP, Hypnotherapy and Coaching Certificate – Life Practice UK
Sports Hypnosis Certificate – The UK College of Hypnosis and Hypnotherapy
Smoking Cessation Certificate – Corporate Medical Services
Hypnotherapy for Children Certificate of Merit
Our therapies
We offer a range of therapies, including hypnotherapy, NLP, cognitive behavioural therapies, EFT and life coaching. We work to understand the drivers at the root of our clients' perceived issues, before selecting the most suitable treatment to deliver lasting change. Therapies are fully personalised to the client's individual needs.
Treatment is provided in a quiet, private clinic in Rotherham. We can also work with clients at their preferred site in Sheffield, Chesterfield, Doncaster, Barnsley, Worksop and surrounding areas.